The Library of Michigan (LM) is developing new ideas to bring Michigan's past into the digital future.  We are looking for partners to share and showcase uniquely Michigan content hosted through LM Digital Collections. This initiative is open to libraries and cultural heritage institutions, research and special interest groups and individual creators.  For more information, see the  FAQ below.  If you would like to discuss a digital hosting project, fill out the hosting request form and LM will contact you within 3 business days. 
LMDigital Hosting Services - FAQ
The Michigan Legislature created the Library of Michigan to guarantee the people of this State and their government one perpetual institution to collect, preserve and provide access to the story of the State, and to support libraries in their role as essential community anchors. In support of that mission, LM has established a new program to provide free hosting of digital content owned and provided by other Michigan libraries, cultural institutions, and the interest groups that invest time, resources, and research into capturing and recording the Michigan story.  
The following questions are answered in brief, and we encourage further discussion of the information offered here.  Contact LM if you want to discuss these opportunities further.  
The first step is to contact the Library of Michigan (LM-Digitization@michigan.gov) for an initial fact gathering discussion to determine your needs and to answer basic questions regarding participation in the program.  Next steps would include scheduling additional meetings with any/all stakeholders associated with your project and distribution of additional documentation and guidelines for formatting digital files, metadata, and various means of customizing the user experience.   
Currently we are offering this opportunity to Michigan libraries, museums, schools, historical interest groups, and municipal governments.   
Preservation vs Hosting
Currently LM is providing hosting of content only.  Partners should consider the materials uploaded to our digital content management system as 'presentation' copies of long-term duration.  Solutions for permanent preservation of original and/or master files should be pursued separately – LM can provide contacts and resources on this topic.
Does LM require donation of the master files?
Typically, the partner will provide access to appropriately formatted copies of digital files. The original, master file remains the partner's property and responsibility.
The Library of Michigan has a limited capacity for in-house digitization of original or hardcopy materials and typically cannot offer this level of service.  For assistance planning this aspect of your project, please contact LM for more information.
The simplest definition of metadata is 'information about information' – this includes very common bibliographic data such as, title, author, date publisher, subject or description that describes a book, photograph, pamphlet, yearbook, etc., and helps people discover the materials they want to use in online library systems.  
LM provides tools, documentation, and training to help you apply consistent and uniform metadata to your digital objects that conform with system requirements and best practice.
What types of materials do you accept?
The Library of Michigan's collection development is focused primarily on Michigan (people, places, culture, physical/geographical features, flora/fauna, etc.) but also includes the Great Lakes region.  Content provided for hosting must be similar in nature.  Materials proposed for inclusion will be discussed and evaluated early in project planning.
Are there any restrictions on file formats or media types?
Most file formats (text, image, audio, video, etc.) are accepted. 
Are there any limitations on file size or volume of content?
Yes, budgeting storage space and utilizing efficient processes are critical elements in a program of this scale.  Partners may be asked to compress large files or convert to another format to economize storage space and process collections in a timely manner. Discuss the scope and scale of your project with LM for guidance on any further limitations.
Do we need to do any special processing of the digital files?
To enhance discovery and conform with Americans with Disabilities Act (ADA) requirements, text-based documents must be processed through an OCR software prior to uploading to create a transcript within the accompanying metadata.  Materials that cannot be processed with OCR software, i.e., handwritten materials, must be accompanied by a complete transcript.
LM utilizes copyright statements and use licenses from RightsStatements.org and/or Creative Commons. Partners will be required to assign a copyright status in their metadata.  LM can assist in determining the appropriate statement or license to apply.
LM utilizes CONTENTdm, a digital content management system to host and present digital materials. Each CONTENTdm collection is accompanied by a customizable, public-facing, landing page that partners can use to highlight the content in their collections with descriptive text, images, and organizational features to enhance exploration of collection(s).  In addition, LM will highlight and provide a link to all hosted collections from LMDigital, our digital collections portal.
All hosted collections are uploaded to the Digital Public Library of America (DPLA) through  Michigan Memories.
Partners are free to link to any of these sites, the collection landing page and/or individual materials within their collections in their own online applications and communication channels, including websites, catalogs, and social media.
LM collaborated with Presque Isle County Historical Museum and Presque Isle District Library to host photographs and other materials from their local historical collections.  The original materials were digitized through an LSTA Improving Access to Information federal grant. 
Presque Isle Area Digital Collections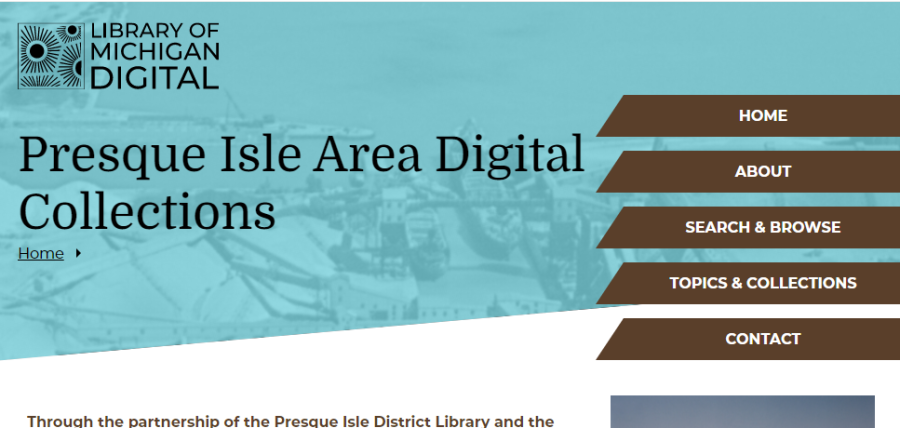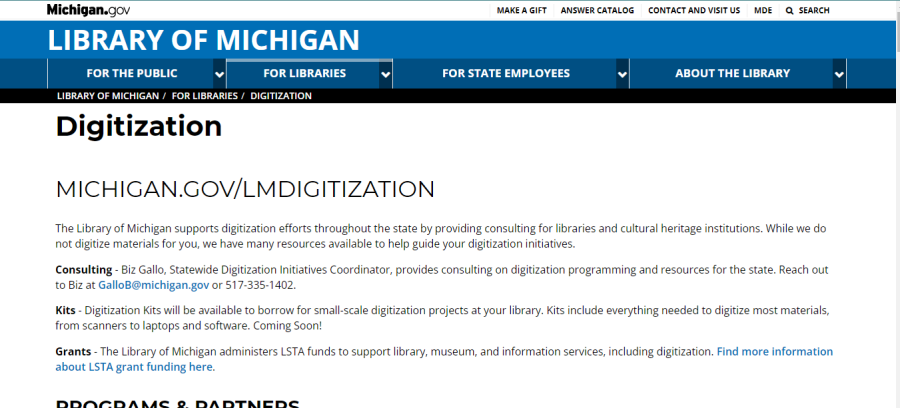 The Library of Michigan offers digitization consulting and support.  See the links at michigan.gov/lmdigitization for resources to help you transform and showcase your collections in a new way.
If you need more information, contact us at LM-Digitization or 517-335-1402.